Welcome
Welcome to the business and personal website of me, Jan Burch - aka Jan4insight - owner & practitioner of Geo-Glow Consulting. Call me a "Renaissance woman" > My business aims to be your go-to source for holistic energy work and intuitive readings. My creative side makes (and sells!) gorgeous one-of-a-kind handcrafts and fabulously colorful print-on-demand gifts and more. Here at my site, you can find me on the Web, order a reading, learn more about my energy work services, and check in with my occasional musings. Current favorite topics include art journaling, politics, and of course - cats!

Tuesday, May 4, 2010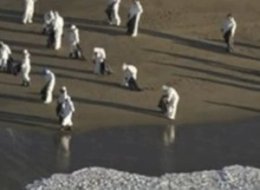 Thank you, H P, for posting this simple and powerful way to make a difference. I just got my hair cut last week, so I won't be able to donate for a while, but I'm passing this on via Facebook & blogspot :)
Read the Article at HuffingtonPost
One nonprofit has an innovative solution for cleaning up the massive oil spill on the Gulf Coast, using the ultimate renewable resource: human hair. Since its founding in 1998,
Matter of Trust
has collected donations of human hair and animal fur to clean up after the thousands of oil spills that happen each year. The hair and fur donations are made into mats and booms, which use old nylon stockings to keep clippings together.
Each day, 300,000 pounds of hair and fur are cut in hair salons across the United States. Unneeded hair and fur can be sent to Matter of Trust's headquarters to be assembled into resources that will help clean up Louisiana waters following the recent Deepwater Horizon oil spill. Donations are pouring in from every state in the country to aid the clean up process.
Individuals can organize "hair-raising" events in their communities to collect donations or speak to locate hair stylists and pet groomers about sending in the leftover hair and fur.
Here is the direct link for donations and info:
http://www.matteroftrust.org/
Sunday, May 2, 2010
The immediate concern in this catastrophe are the animals: birds, whales, dolphins, etc. Below are links to websites that are hands on in this horrific crisis and an excerpt from an article on the rescue of the animals:

The Institute for Marine Mammal Studies:


http://www.imms.org/index.

php

Gulf Coast Wildlife Rescue -

http://gcwr.org/how_can_i_

help.html

International Bird Rescue Research Center [Has sent a team to Louisiana]:


http://intbirdrescue.blogs

pot.com/2010/04/team-activ

ated-to-help-in-massive-gu

lf.html

Pascagoula River Audubon Center:


http://pascagoulariver.aud

ubon.org/issues-action/oil

-spill-efforts

The Animal Rescue Site:


http://www.theanimalrescue

site.com/clickToGive/home.

faces?siteId=3

…The spill has come at an especially bad time for the region's bird life.
"The Mississippi Flyway is a key migratory corridor that runs through the area," said Ziccardi, a professor at the University of California at Davis who wrote the U.S. federal guidelines for rescuing wildlife in oil spills.
"There are certain songbirds and shorebirds that are going through their peak migratory period," he said. "There are other birds for which this is a nesting and egg-laying period."
"With turtles and marine mammals, they're out in the open water, so they are at risk earlier," Ziccardi said."

http://www.reuters.com/art

icle/idUSTRE6400E520100501
~~~~~~~~~~~~~~~~~~~~
I copied this, with thanks, from a comment by another member of Huffington Post forums ~ Jan